Je ideale studiemethode vinden is niet altijd vanzelfsprekend, zeker niet als je brein anders werkt. Zelf heb ik de klassieke studiemethode letterlijk moeten omgooien door van onder naar boven te studeren, bottom-up.
Toen ik nog in de lagere school zat heb ik een cursus leren leren gevolgd. Daar werd ons gezegd dat we om leerstof goed onder de knie te krijgen, moesten beginnen met de grote titels te leren, de subtitels en dan pas de rest. "Leer eerst je kapstok, hang er dan pas de jassen aan en vervolgens kan je de zakken vullen", verwoordde iemand het. Maar het leren van titels bracht mij alleen maar in de war. Want zolang je niet geleerd hebt wat er onder die titels staat, zijn dat toch maar lege, abstracte woorden?
Toch werd ons deze studiemethode aangeleerd omdat neurotypicals top-down denken. Ze nemen eerst een concept op, op basis van het collectieve geheugen, en richten zich dan pas op details en voorbeelden.
Eerst de bomen, dan het bos
Personen met autisme daarentegen, zijn detaildenkers en kunnen veel moeilijker het geheel overzien. Om het heel simplistisch voor te stellen zien ze eerst bladeren, dan de takken waaraan ze vasthangen, dan pas de boom en uiteindelijk het bos. Zonder te weten dat er een woord voor bestond, begon ik op school de bottom-up methode toe te passen.
Bottom-up denken is een proces waarbij je dus eerst de details opneemt en van daaruit naar boven opbouwt door de gefragmenteerde deeltjes te structureren en te categoriseren. Je gaat dus verbanden leggen tussen de verschillende details en voorbeelden en je gaat hun gemeenschappelijkheden concretiseren om er betekenis aan te kunnen geven. Inductie in plaats van deductie. Deze benadering is trouwens onmisbaar voor innovatief denken, wat verklaart dat mensen met autisme vaak out of the box denken.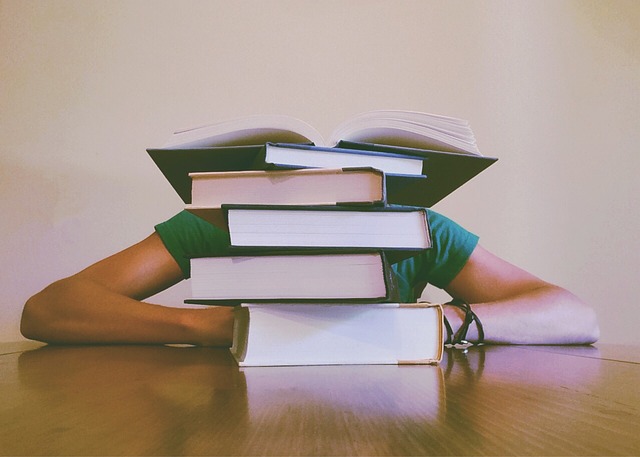 ©Pixabay
3x studeren
Wanneer ik leerstof moest verwerken begon ik onderaan door de cursus eerst heel grondig en in detail in te studeren, paragraaf per paragraaf. Wanneer ik de cursus voor de tweede keer studeerde, kon ik grotere blokken leerstof in één keer verwerken omdat ik de stof al wat kende. De derde keer kon ik hoofdstuk per hoofdstuk doen. Op die manier ging het telkens sneller en kon ik steeds het overzicht beter zien. Vaak maakte ik ook een schema om de grote hoeveelheid leerstof als één geheel te kunnen begrijpen en bracht ik ook duidelijk structuur aan in mijn cursus door met kleuren te werken. Tenslotte bladerde ik de cursus nog een vierde keer door om alle blokken leerstof nog een laatste keer aan elkaar te lijmen.
Het is een vrij tijdrovende methode. Zeker als je er zoals ik nog een concentratiestoornis bovenop hebt. Maar het werkte wel. Voor grote cursussen maakte ik vaak op voorhand een samenvatting. Op die manier kon ik de studietijd ervan toch wat inperken en had ik de leerstof al eens doorgenomen, wat het studeren vergemakkelijkte.
Thesis schrijven
Deze bottom-up methode paste ik ook toe bij het schrijven van een paper of een thesis. Ik begon met alle bronnen die ik had verzameld grondig te lezen en stak overal genummerde briefjes tussen met daarop kort verwoord waar het over ging. Vervolgens ging ik al deze gegevens analyseren en op basis daarvan bepaalde ik de structuur. Wanneer ik de structuur uitgebreid had vastgelegd, kon ik mijn thesis volledig gaan uitschrijven.
Ook Temple Grandin beschrijft deze manier van denken:
"Individuals on the autism spectrum learn to form concepts by putting many specific examples of a particular concept into a "file folder" in their brain labeled with that concept. Contrary to how non-autistic people think it is "bottom up" instead of "top down" thinking. A non-autistic person forms a concept first, then adds in the details. I created a concept by building it from many specific examples. It is specific to general thinking."
Studiemethodes die je aangereikt worden zullen voor veel mensen werken, maar niet voor iedereen. Als je voelt dat het niet voor jou is, durf de regels dan overboord te gooien en ontwikkel je eigen methode. Het is niet omdat je brein anders werkt dat het minder goed werkt. Integendeel.