Een telefoontje plegen is voor de meeste mensen een doodgewone zaak. Er zijn er zelfs die het plezierig vinden, stel je voor! Wanneer ik de telefoon hoor rinkelen, breekt het angstzweet mij uit. Telefoneren is voor mij een bron van stress, verwarring en uitputting.
Lichaamstaal valt weg
Ik ben heel visueel ingesteld en hang sterk af van lichaamstaal in mijn communicatie met anderen. Het helpt mij om mensen beter te begrijpen en te achterhalen wat ze denken, maar ik maak er ook zelf gebruik van om mijn boodschap over te brengen. Zo gebaar ik veel met mijn handen. Even glimlachen of knikken is dan weer handig wanneer je niet meteen de juiste woorden vind en tijd wil rekken om na te denken. Wanneer je belt, valt de lichaamstaal weg en hang je volledig af van de stem. Ik begrijp dan minder goed wat de persoon aan de andere kant van de lijn zegt en vind het ook lastiger om mijzelf uit te drukken. Een telefoongesprek en vraagt dus veel meer inspanning en leidt vaker tot misverstanden.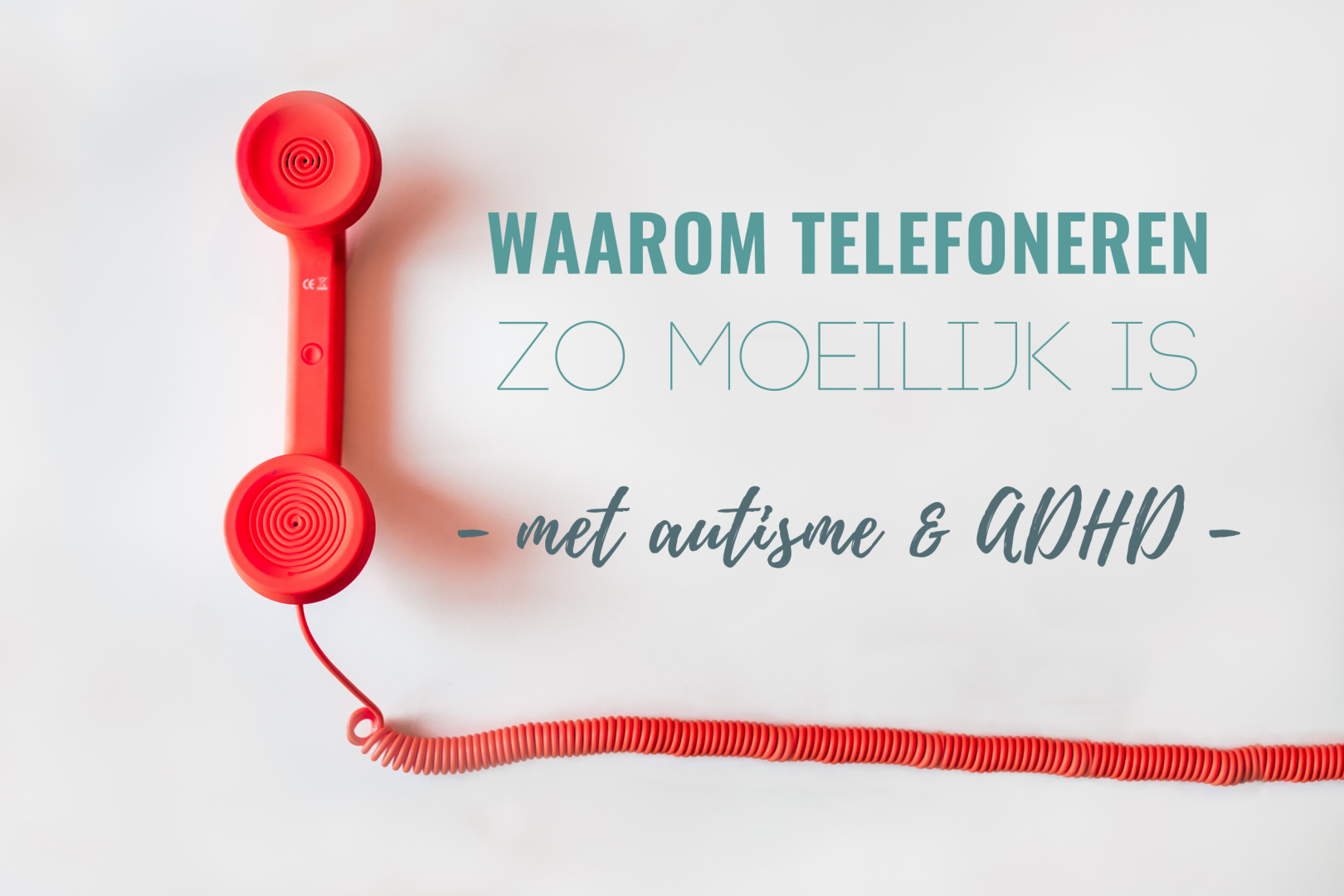 De communicatie gaat te snel
Omdat het visuele stuk wegvalt, kan je geen knikje of glimlach meer gebruiken om na te denken. Stiltes zijn tijdens een telefoongesprek bovendien veel ongemakkelijker en worden meteen opgevuld, waardoor de communicatie nog sneller verloopt dan bij een face-to-face-gesprek. Dit maakt telefoneren extra zenuwslopend en vermoeiend, omdat ik sowieso al moeilijk tegelijkertijd kan nadenken, luisteren en praten. Ik heb meer tijd nodig dan iemand anders om een vraag te verwerken en een antwoord te formuleren.
Onvoorspelbaarheid
Ook de onvoorspelbaarheid van hoe een telefoongesprek zal verlopen, is voor mij een stressfactor. Sommige gesprekken, zoals het reserveren van een tafel in een restaurant, hebben min of meer een vast script. Maar andere gesprekken kunnen alle kanten op gaan. Door de snelheid van een telefoongesprek en het gebrek aan lichaamstaal, kan ik die onvoorspelbaarheid veel minder goed compenseren. Ik moet mij zodanig concentreren op wat iemand zegt, dat ik niet meer kan nadenken.
Drukke omgeving
Wanneer ik moet bellen in een ruimte waar lawaai is of waar andere mensen aan het praten zijn, is het voeren van een vruchtbaar telefoongesprek hopeloos. Alle prikkels komen even hard binnen en leiden mij zodanig af, dat ik zelfs niet meer kan luisteren. Bovendien maakt de aanwezigheid van andere mensen mij nog veel zenuwachtiger omdat ze mij kunnen horen klungelen.
Wanneer ik moet bellen
Ik probeer de telefoon zo veel mogelijk te ontwijken. Maar wanneer ik toch eens moet bellen, gaat hier steeds een hele voorbereiding aan vooraf. Ik bereid het gespreksonderwerp voor door op te lijsten wat ik moet zeggen en antwoorden te bedenken op mogelijke vragen. Zo krijg ik een soort van flowchart met verschillende scenario's. Ik leg ook een notitieboekje en een pen klaar om aantekeningen te maken, een glas water voor de droge keel (door de zenuwen) en probeer omgevingsgeluid te beperken door de ramen te sluiten en notificaties uit te schakelen.
Ik bel alleen maar als het niet anders kan en wanneer ik iets moet vragen of doorgeven. Telefoneren om gewoon een praatje te maken is voor mij heel onnatuurlijk. Mensen zeggen me soms 'als er iets is, bel mij dan maar'. Maar wat betekent 'als er iets is'? Hoe ernstig moet het probleem zijn? En wanneer bel ik gelegen? Ik was altijd blij dat mijn mama het woord voerde wanneer er familie belde. Tot ze zei 'ja ze is hier, ik zal ze even doorgeven'. Noooo…
Wanneer ik gebeld word
Onverwacht opgebeld worden vind ik bijzonder onaangenaam, vooral door mensen die ik minder goed of helemaal niet ken en op voorhand niet weet waar het over gaat. Dan kan ik mij niet voorbereiden en kom ik soms niet veel verder dan euh… hmm… uhm… kan je dat op mail zetten?
Telefoon krijgen heeft ook iets intrusive. Alsof er iemand plots onaangekondigd in je woonkamer verschijnt wanneer je in je pyjamabroek in de zetel hangt. Je kan het telefoontje niet snoozen zoals een wekker of op ongelezen zetten zoals een mail. Er wordt verwacht dat je alles laten vallen om je beller te woord te staan. Vind ik niet leuk.
Dus voor je mij belt, stel jezelf eerst de vraag: kan ik dit in een mail of in een SMS zetten?