In sneltempo begeef ik mij naar het station. Nog een laatste obstakel voor ik de trappen bereik: felgroene regenjassen met klembord en pen in de hand. Of ik even tijd heb om de witte tijger te redden voor maar 15 euro per maand? De jeugdherinnering aan Schipper mag ik overvaren is niet ver weg en ik slalom mij een weg naar binnen, voorbij de trompettist en zijn kartonnen bekertje van Panos. De schelle klanken snijden door mijn hoofd.
Een krioelende massa van pendelaars die alle kanten oplopen, reiskoffers en kinderwagens die over mijn voeten rollen, reizigers die midden in de gang plots blijven stilstaan om met open mond naar het bord vol vertragingen te staren en gehaaste pendelaars die los tegen mij aan lopen, vullen de grote hal ik die door moet tot aan het voorlaatste spoor. Luidsprekers verspreiden ondertussen aan de lopende band mededelingen die in vier talen weergalmen van muur tot muur. Ik passeer Starbucks, schuif bijna uit over enkele Metrokrantjes, werp een blik op de felverlichte toog van Panos (bijna uitverkocht) en merk op hoe de geur van koffie en kebab naadloos in elkaar overgaan. Niets ontsnapt mij en mijn RAM-geheugen begint al vast te lopen.
Ik bereik spoor 11 en stap naar mijn vaste plekje terwijl ik mijn blik over het grote scherm laat gaan. Zes minuten vertraging. Verdomme. Dat begint weer goed. Zeven minuten, acht minuten. Met elke minuut vertraging die erbij komt, schiet mijn hartslag verder de hoogte in. Tien minuten. Zo kan ik hier nog lang blijven staan. Waarom krijgen we niet te horen wat er aan de hand is? Mijn hoofd gonst, mijn ademhaling versnelt. Ik verplaatst nerveus mijn evenwicht van het ene op het andere been. Elf minuten. Meer en meer mensen beginnen zich op het perron op te hopen en hebben lak aan mijn personal space.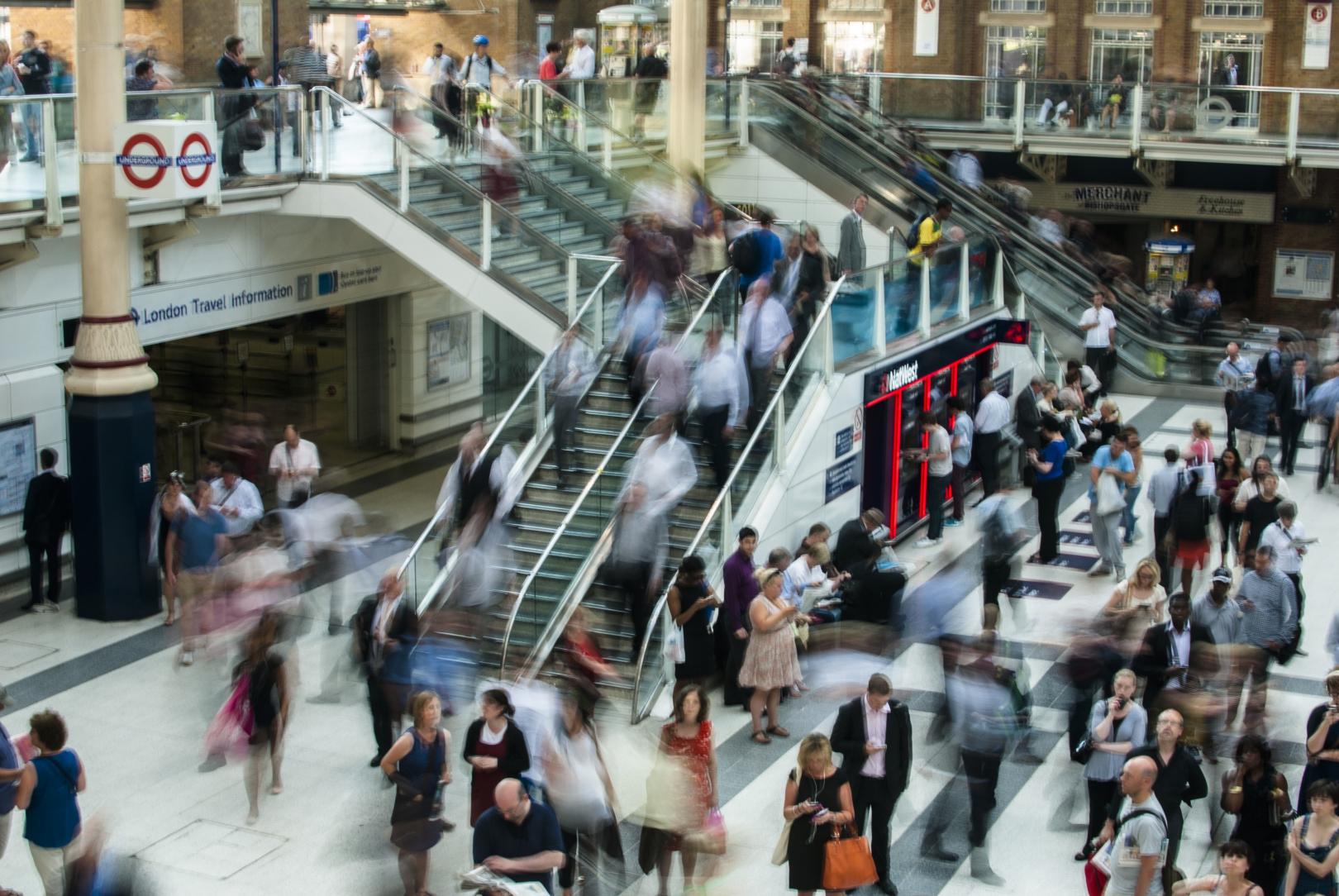 Sfeerbeeld – ©Anna Dziubinska (StockSnap.io)
Twaalf minuten. Daar is de trein eindelijk. De massa stormt af op de deuren, maar dankzij het betere ellebogenwerk ben ik als één van de eersten in de wagon. Je bent een habitué of je bent het niet. Ik scan razendvlug op vrije tweezitjes of tenminste een plekje aan het raam met een tafeltje, maar helaas. Ik zet mij aan het gangpad naast een half ingedommelde man en word me meteen gewaar van zijn penetrante lijfgeur. Ik zoek met mijn voeten naar een beetje bewegingsruimte, maar bots op een inneembaar fort bestaande uit een zware aktetas, stevig omklemd door een stel lange mannenbenen tegenover mij.
De trein vertrekt. Mijn spieren staan strak gespannen. Alle zitjes zijn benomen en de aanwezigheid van zoveel dicht op elkaar gepakte mensen drukt op mij en voelt bedreigend aan. Ik heb het veel te warm en mijn lang verteerde middagmaal heeft intussen plaats geruimd door een ijl gevoel in mijn hoofd.
Ik kijk rond en zoals gewoonlijk kan ik mijn medereizigers herleiden tot enkele types. Zo is er steevast de staarder die de hele rit lang ongegeneerd zijn blik strak op mij gericht houdt. Dan is er de prater die zijn gesprekspartner (en omringenden) trakteert op het relaas van zijn werkdag en daarbij alle opgekropte irritaties de vrije loop laat. Verder is er ook altijd wel iemand die erin slaagt om met slechts een iPod en een paar oortjes de hele wagon te voorzien van kwelende muziek. Taylor Swift deze keer, als ik mij niet vergis. Mijn hoofd doet steeds meer pijn en ik probeer alle geluiden wat naar de achtergrond te brengen met mijn mousse oordopjes.
Het patroon van het bolletjeshemd schuin tegenover mij danst voor mijn ogen. De bolletjes worden soms afgewisseld door blokjes. Ik begin te tellen om de hoeveel rijen en bolletjes, maar hij beweegt te veel. Hij opent het vuilbakje om een papiertje weg te gooien en laat daarbij de stank van een schimmelende bananenschil ontsnappen. Ik probeer geen gezicht te trekken.
Sfeerbeeld – ©Fabrizio Verrecchia (StockSnap.io)
De trein vertraagt en komt bruusk tot stilstand op de meest verlaten plek van het hele traject. Er wordt niets afgeroepen. Na enkele minuten staan we er nog steeds en er beginnen barsten te komen in mijn avondplanning. In mijn hoofd begin ik mogelijke scenario's uit te denken en voor elk van hen een nieuw actieplan op te stellen. Als ik pas om 18u30 aankom, geraak ik niet meer bij de apotheker. En morgenavond heb ik dansles. Misschien kan ik nog net ervoor gaan? Dat wordt krap. Als de trein dan maar op tijd is. De boodschappen moet ik vanavond absoluut nog doen. Mijn mails kan ik overmorgen nog beantwoorden.
Mijn rugspieren verkrampen en mijn knieën beginnen te spannen, maar de grote aktetas staat er nog steeds. Ik probeer mij wat te draaien en strek één been uit in het gangpad. Hoe lang gaan we hier nog blijven staan?
Een vrouw twee stoelen verder met rood geverfd haar en donkere uitgroei is beginnen telefoneren om de verveling tegen te gaan. De bolletjes van haar oorbellen weerspiegelen het zonlicht en kletteren de hele tijd tegen elkaar terwijl ze enthousiast praat.
Al zes minuten staan we stil. Mijn hart klopt in mijn keel en mijn handpalmen zweten. Ik probeer wat te lezen in mijn boek, maar geraak maar niet voorbij de eerste zin zonder afgeleid te worden door mijn eigen gedachten. Negen minuten. De trein komt langzaam aan weer op gang. Eens voorbij Mechelen razen we aan topsnelheid voorbij de kleinere stations.
"Dames en heren, binnen enkele ogenblikken komen we aan in Antwerpen Centraal", klinkt het door de luidspreker. Meteen schiet er een korte adrenalinegolf door mijn lichaam. Boeken en lap tops worden dichtgeklapt, dutjes worden abrupt beëindigd, sjaals en jassen worden weer aangedaan waarbij hier en daar iemand een verdwaalde elleboog in zijn gezicht krijgt.
Na een wachttijd in Brussel van 12 minuten en een extra lange treinrit van 49 minuten, komen we met een totale vertraging van welgeteld 23 minuten eindelijk aan. Ik ben uitgeteld, mijn hoofd barst. Ik kijk op mijn horloge. Het is scenario B geworden. Tijd voor bijbehorend actieplan.